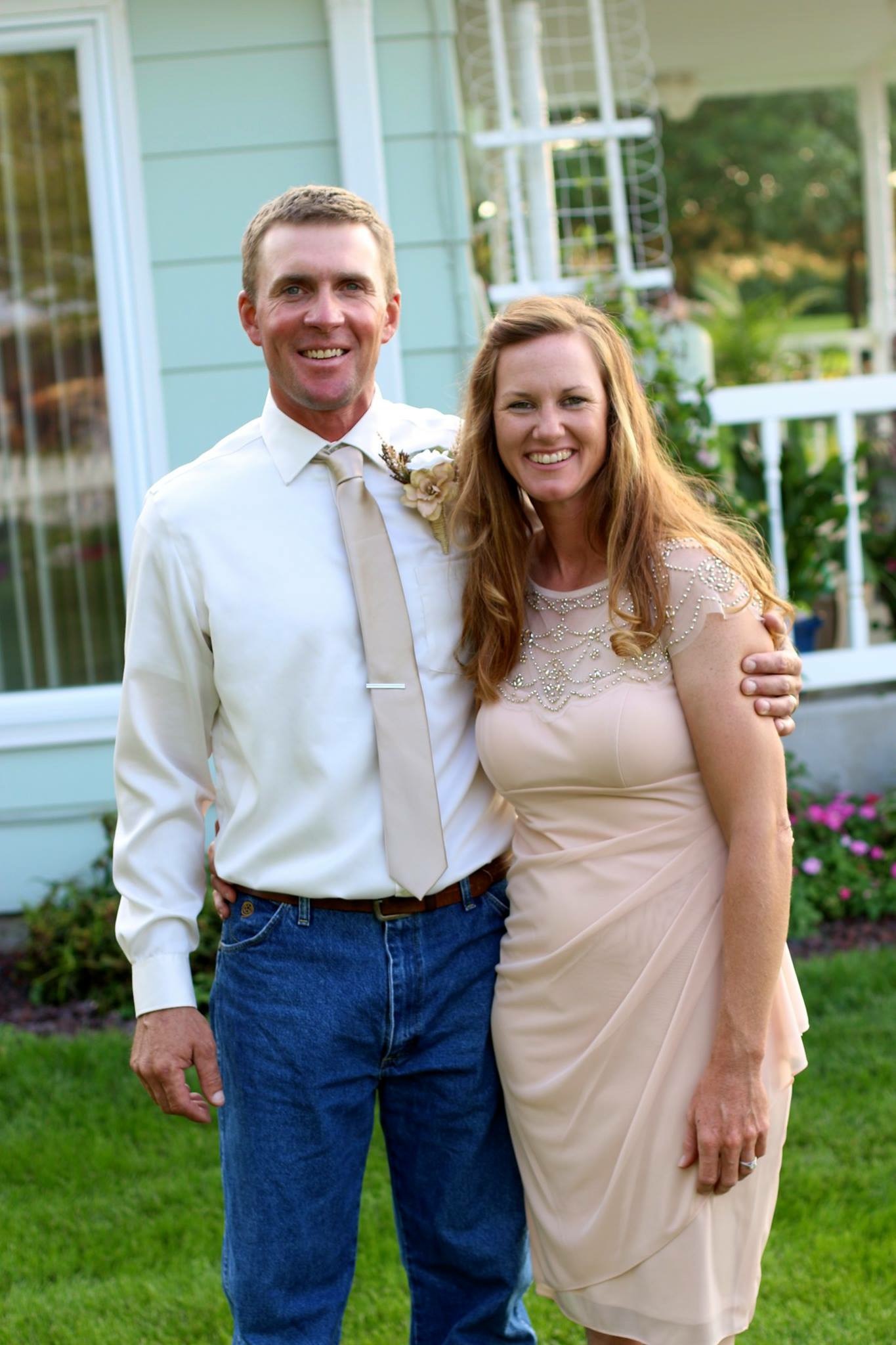 Kaleb & Erin Kuck
Kaleb grew up on a family farm in south central Nebraska near the town of Bertrand, growing corn and soybeans along with a commercial cowherd. Kaleb is one of 7 children. Growing up he spent a lot of time helping and working on the family farm, and as a kid planned to make a career of farming and ranching. Kaleb graduated from Bertrand High School in 2003. Kaleb pursued his dream of farming and ranching directly after graduating from high school; going to work for his grandparents Leroy and Loretta Kuck on their farm near Bertrand, working alongside his brother, Abe. Kaleb and Abe established a partnership together in the fall of 2002 – A&K Farms – with which they started renting land of their own to farm and purchased purebred Angus cattle together, purchasing their first round of purebred cows from Basin Angus Ranch, of Hobson MT in the fall of 2002. This venture with the registered cows was based around being an affiliate herd of Basin Angus Ranch and selling bulls raised by the Kuck Family on the Basin Angus Ranch annual bull sales. The fall of 2002 bred female acquisition consisted of 80 head. Kaleb and Abe would grow that number to 400 head of Registered Angus cows by the spring of 2016, through more cattle purchased from Basin Angus Ranch and also by buying out Leroy and Loretta's share of the registered cows in the fall of 2014. Leroy and Loretta were also part of the purebred cattle venture from its starting point in 2002 and by 2014 had decided to longer be in the cattle business and sold their cattle and cattle equipment to Kaleb and Abe. The Kuck family sold bulls with Basin Angus Ranch through 2010 when Basin Angus made some management changes and gave notice to the Kuck Family that they would no longer be selling their bulls. Upon hearing this news it prompted the idea of having bulls sales under the name Kuck Ranch and soon after, arrangements were made to have an Annual Kuck Ranch Production Sale at Lexington Livestock Market, Lexington, NE. The first Production Sale was in 2011, selling 40 yearling bulls as well as an offering of yearling heifers. The 2017 sale marked the 7th Annual Kuck Ranch Production Sale, in which Kaleb and Abe had grown their offering to nearly 100 yearling bulls and an offering of registered and purebred yearling heifers. It is very well known the struggles that are evident with family operations. It's just hard to get along sometimes and sadly, in this case division and an ultimate split occured. A decision was made in 2016 to split the partnership – A&K Farms – Kaleb and Abe split the cattle and machinery they owned together, as well as the land they had been renting together, making 2017 the first year that each partner would be farming and ranching separate from one another. Thus, KEY Ranch was formed.
Erin grew up on a family farm in west central Iowa near the town of Guthrie Center, IA, raising Purebred Angus cattle along with crops that were utilized in the cattle operation. Erin is one of 9 children. Like many farm kids, Erin started helping and working on the family farm at a very young age; quickly gaining a love and passion for the occupation. Erin graduated from Guthrie Center High School in 2000, and from there attended Iowa State University gaining a degree in Animal Science. During her college education Erin did an internship with Accelerated Genetics, traveling to their headquarters in Wisconsin. After college Erin returned home to the family farm – Brad Z Ranch – and ranched with her parents, Jim and Mary Bradford for several years, gaining even more experience in the purebred Angus industry; helping her family with raising cattle for their annual production sale. Erin too experienced some of the difficulties with family operations and eventually decided that her role there wasn't her long term path. Her very positive internship with Accelerated Genetics proved to be even more beneficial years later when she made the decision to strike out from the family farm and landed a job with Accelerated Genetics. With this new venture Erin now had a sales territory that consisted of eastern Nebraska, Western Iowa, and Northern Missouri. She started out by going door to door, introducing herself to cattle producers in these areas, selling Accelerated Genetics semen, her A.I. services, custom liquid nitrogen tank fills, as well as freeze branding services. Erin would eventually be recognized by the company for the volume of semen she was selling annually. She would also go on to grow her A.I. services to breeding over 3000 head annually. It was also through her time with Accelerated Genetics that she would eventually find herself on the farm of the Kuck Family in Nebraska, where she would meet her future husband, Kaleb. Kaleb and Erin met on March 24th, 2013. Erin went with an Accelerated Genetics co-worker to the farm of the Kuck family to see a new herd bull that the Kuck's had recently purchased from Schaff Angus Valley. Her coworker, a regional Accelerated Genetics rep for southwest Nebraska had contacted Kaleb the night before to ask if they could stop by and see this bull. Kaleb said that would be great, and in the conversation found out that a coworker would be coming along. Kaleb thought, yeah ok, no big deal. They arrive at the farm the next morning and Kaleb is there to greet them. Kaleb sees this coworker (Erin) get out of the pickup and immediately says to himself, "Who is that?!?" This lead Kaleb to ask Erin for her business card before she left that day. A long distance dating relationship would come of all of this. Erin was still living in Iowa and Kaleb still in Nebraska. Kaleb and Erin dated long distance for 2 ½ years, seeing each other every chance we could and text and talked on the phone daily. Through these phone conversations Kaleb learned of Erin's dream of having her own heifer development operation. Through learning of this, it set in motion, the path for working toward making her dream a reality. A facility in which a heifer development operation could function was found and Erin and Kaleb decided to pursue this new business, together; which led Erin to leave her job with Accelerated Genetics and move to Nebraska in the fall of 2015. In June of 2016 Kaleb proposed marriage to Erin and she said yes!! Kaleb and Erin were married in a little country church in Iowa on Dec. 3rd 2016. Their honeymoon experience would be calving their cows together starting Jan 1, 2017, living in a 10' x 20' cabin at the heifer development facility. They later took a real honeymoon in late Aug. 2017. Since they met that day in 2013 their lives have never been the same. What a blessing it is for them to have each other and how very thankful that God brought them together.
Click on the link to find out more about our KEY Cattle Development.